Conference Venue
The joint ROCOND and LPVS 2018 will be held at the conference center of Majestic Palace Hotel near downtown Florianópolis. Majestic Palace Hotel is a 5-star hotel offering luxury accommodation, stunning views of the North Bay, and located just minutes from Shopping Malls, several beaches on the north, south and east of Santa Catarina Island.
All plenaries and LPVS sessions will take place at the Auditorium RITZ 1 (150 places), ground floor, and the ROCOND sessions will take place at the Hotel Conference Rooms CC1, CC2 and CC3 (G2 level). The conference secretariat will be located at the Foyer, ground floor, next to the entrance of RITZ 2 room.
The social events Welcome Reception, Coffee Breaks, Conference Banquet and Closing Ceremony will take place at the Exposition Center of Hotel Majestic (G2 level). Extra social event tickets will be available at the Conference Secretariat (only credit card will be accepted).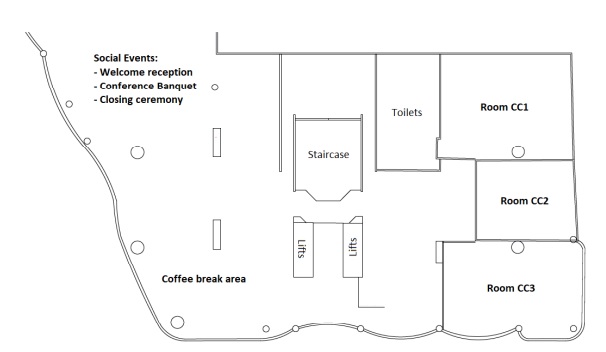 Conference venue hotel
The majestic Palace Hotel has provided exclusive rates for conference attendees:
Reservation by phone only in bussines hours (8h30AM to 7h00PM), please contact the Reservation Department at +554832318000
Reservation by e-mail: reservas@majesticpalace.com.br
When booking the client must request the rate applied according to participants for ROCOND Event.
Reservations according to availability
Rates/Rooms Types: (rates are just for reference)
Rooms with a view to the City: standard room with twin or double bed, rate 350.00BRL + 2.5% ISS tax.
Rooms with a partial view to the sea: luxury room with twin or double bed, rate 390.00BRL + 2.5% ISS tax.
Rate currency: BRL - Brazilian Real
Daily rates include Breakfast and free Wi-Fi access
Outsourced parking: 28.00BRL per day
Checkin from 2 PM and checkout until noon
Cancellations up to 48H before the check-in date, no charge
There also exist hotel rooms within close proximity to the Convention Centre such as Blue Tree Premium Florianópolis, Novotel Florianópolis, Slaviero Florianópolis Baía Norte, Castelmar Hotel and Floripa Hostel (low cost with shared rooms). Please check the hotel website for reservations.